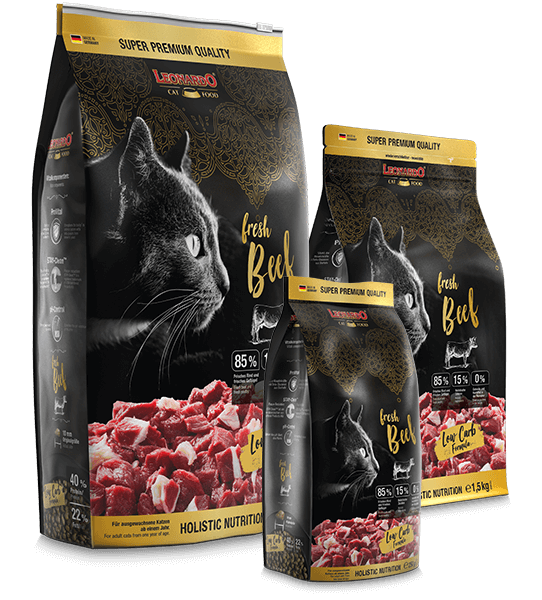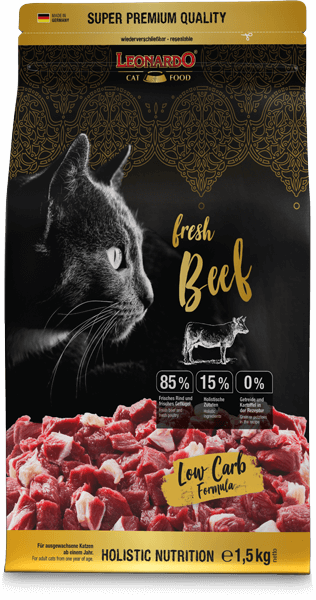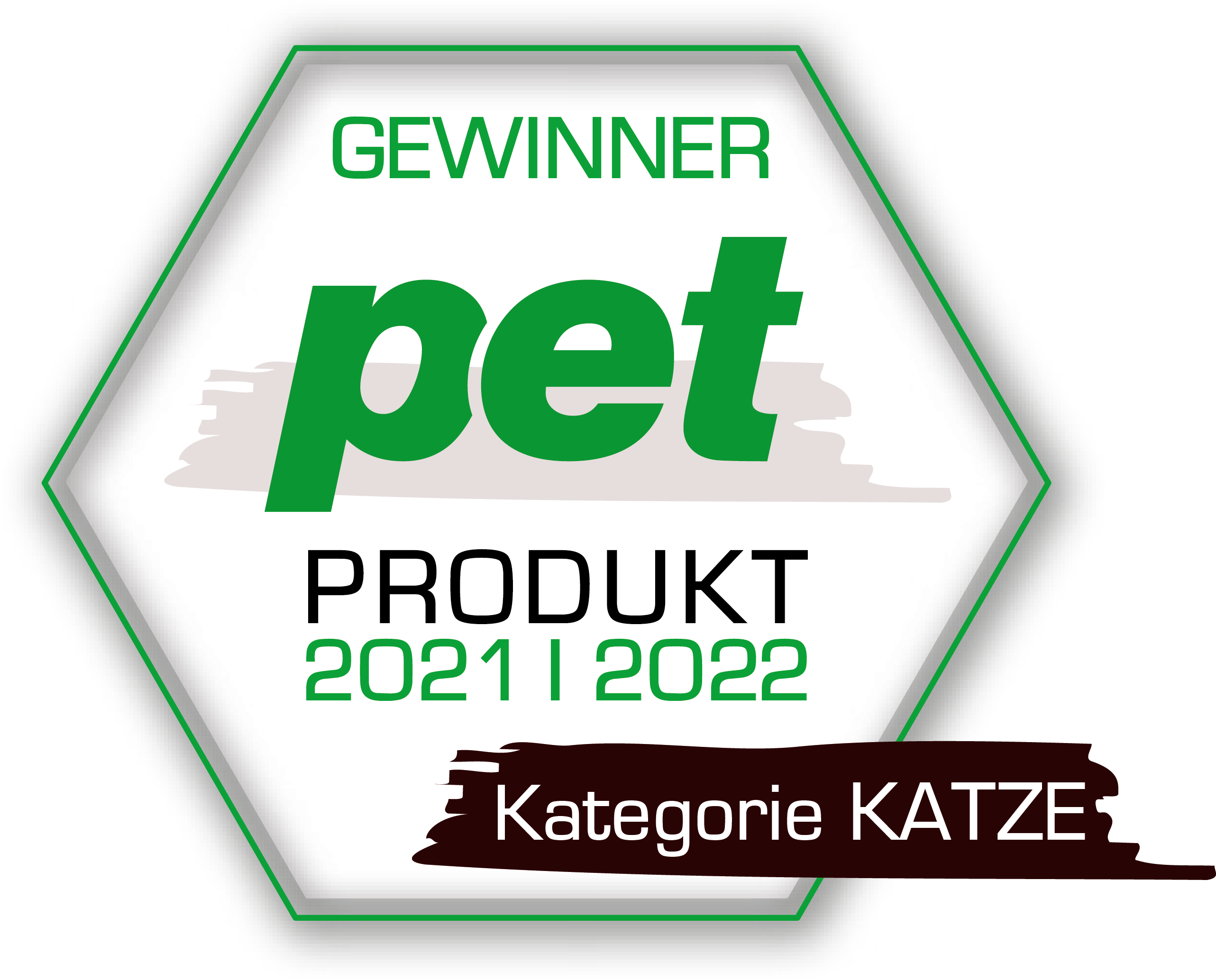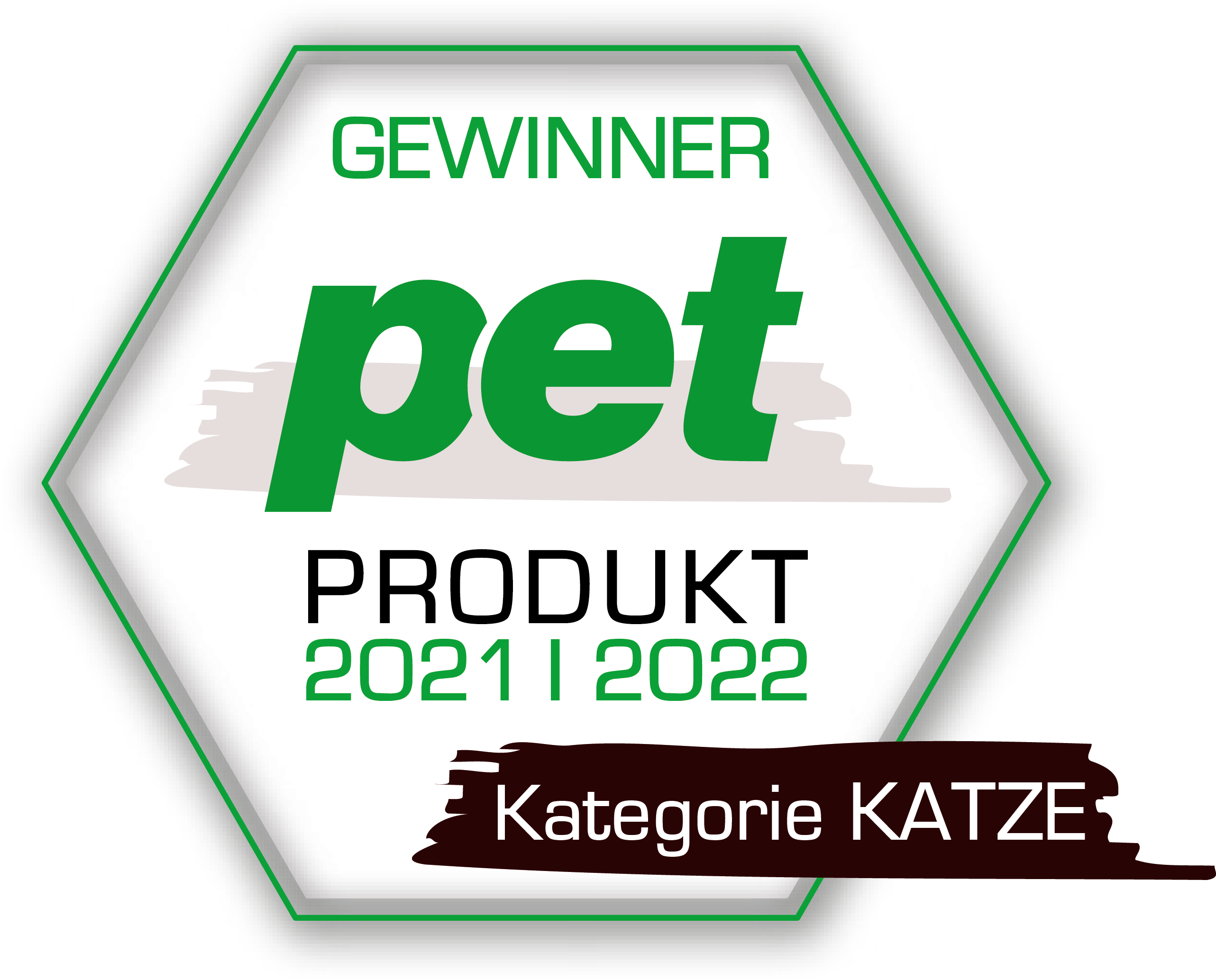 85% fresh beef and fresh poultry
15% Holistic ingredients
0% grain and potatoes in the formula
Available, delivery time 3-5 Werktage
Calitate - Fabricat în Germania
Meat is a valuable resource – so we firmly believe that it must be prepared in the best possible way. For LEONARDO® fresh Meat we use fresh meat and mostly do without pre-dried meat meal. That is how we achieved a preparation that was considered impossible. Our very gentle Fresh Meat Technology is applied to process the fresh meat directly into a kibble. This compensates pre-drying stages, and the ingredients used remain fresh until just before processing. This is the only way that the full flavour of the meat can later emerge in the kibble.
Our vital components
PROVITAL
Fortifică sistemul natural de apărare al organismului cu beta-glucani proveniți din drojdie de bere.
PH-CONTROL
Optimizează valoarea pH-ului urinei
STAY-CLEAN™
Reduce tartrul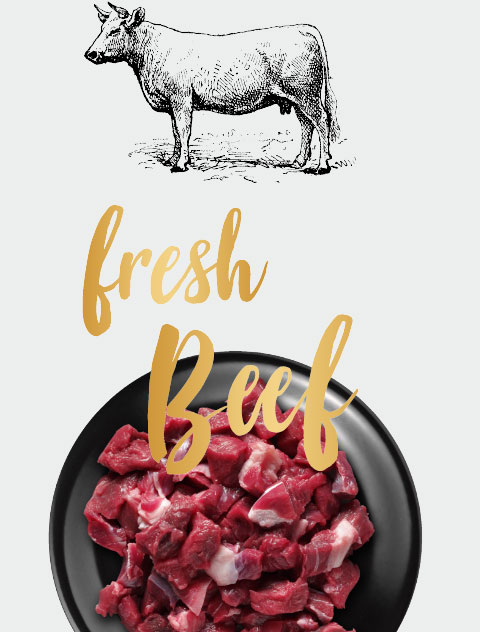 Recommended quantity of food per animal in g/day
| | | |
| --- | --- | --- |
| Weight | sterilised/indoor | activ |
| 3 kg | 25-40 g | 50 g |
| 4 kg | 30-45 g | 60 g |
| 5 kg | 35-55 g | 70 g |
| 6 kg | 40-60 g | 80 g |
| 7 kg | 45-65 g | 90 g |
Complete food for cats
Compoziție
Fresh beef muscle meat, liver, kidney (43%); Fresh poultry meat (42%); Pea flour; Amaranth; Marine zooplankton, ground (Krill, 1.7%); Egg, dried; Fish meal from sea fish, dried, hydrolysed; Poultry liver, hydrolysed; Chia seeds; Brewers' yeast, dried (0.4%, Source of beta-glucans and mannan-oligosaccharides); Kibbled carob; Apple pulp, dried; Vegetables, dried (Carrots, Parsnips, Beetroot, Leek); Dried algae (0.18%, Chlorella vulgaris); Dicalcium phosphate; Potassium chloride; Wild berries, dried (total: 0.07%; Rowan, Rose hips, Bilberries, Elderberries, Currants); Cranberries (0.07%); Herbs, dried (Nettle leaves, Gentian root, Centaury, Chamomile, Fennel, Caraway, Mistletoe, Yarrow, Blackberry leaves); Olive extract (Olea europaea)
Constituenți analitici
Protein 40%; Fat content 22%; Crude ash 7.0%; Crude fibre 2.5%; Moisture 10%; Calcium 1.0%; Phosphorus 0.9%; Sodium 0.4 %
Aditivi per kg
Nutritional additives: Vitamin A 15,000 IU; Vitamin D3 1,500 IU; Vitamin E 150 mg; Vitamin C (as ascorbyl monophosphate, sodium salt) 245 mg; Taurine 1,400 mg; Copper (as copper(II)sulphate, pentahydrate) 15 mg; Iron (as ferrous(II)sulphate, monohydrate) 200 mg; Manganese (as manganese(II)oxide) 40 mg; Zinc (as zincoxide) 150 mg; Iodine (as calciumiodate, anhydrous) 2.5 mg; Selenium (as sodiumselenite) 0.15 mg Technological additives: Lecithin 2,000 mg; Tocopherol extracts from vegetable oils (= natural vitamin E) 80 mg
---
Perfektes TF für Katzen :-)
Ich habe vor kurzen , hier eine Futter Probe bestellt für meine 2,5 Jahre alte Katze. Da ich sehr auf gute Inhaltsstoffe beim TF versuche zu achten ( ohne Getreide , ohne Zucker und vorallem ohne Kartoffeln oder Kartoffelstärke ). Und was soll ich sagen ,meine Katze liebt das TF echt sehr gerne :-). Und ich muss sagen , dieses TF ist für mich jetzt das beste was ich je hatte. Werde weiterhin für meine Katze ihr TF bestellen , ich hoffe das die Qualität des TF so bleiben tut und sich nicht ändern tut. :-). Top TF 👍🏻. Das Fell von meiner Katze ,ist jetzt super weich und Glänzend seid dem sie das Futter bekommen tut. PS.: würde mir mehr Sorten wünschen 😉. Bis jetzt gibt es ja nur 3 Sorten.
Rețetele noastre sunt foarte digerabile întrucât conțin nu doar un nivel ridicat de carne proaspătă, ci și ingrediente vegetale de înaltă calitate. Substanțele nutritive valoroase, provenite din legume, plante și amestecul de fructe de pădure completează carnea proaspătă într-un mod util și corespund șablonului alimentar natural al pisicilor noastre.
Mai mult, ingredientele speciale, cum sunt merișoarele, algele Chlorella sau semințele de chia, au efecte pozitive asupra stării de bine a pisicii. Acestea fac parte integrantă din conceptul nostru nutrițional holistic care constituie baza fiecărei rețete LEONARDO® fresh Meat.
Pure meat pleasure for cats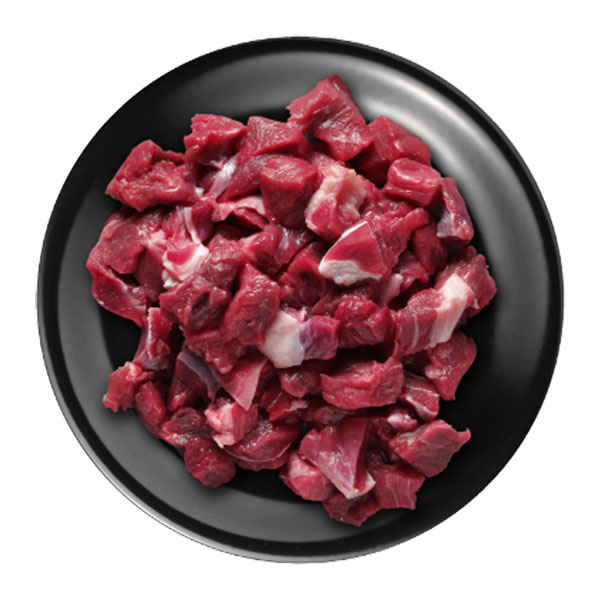 Zooplancton marin (creveți krill)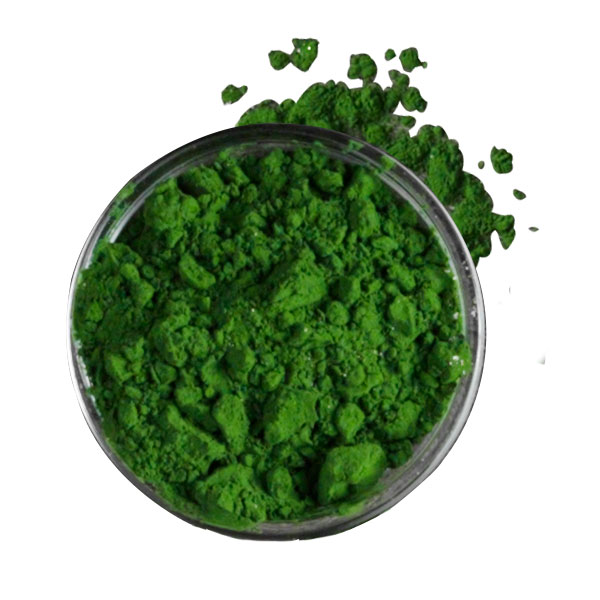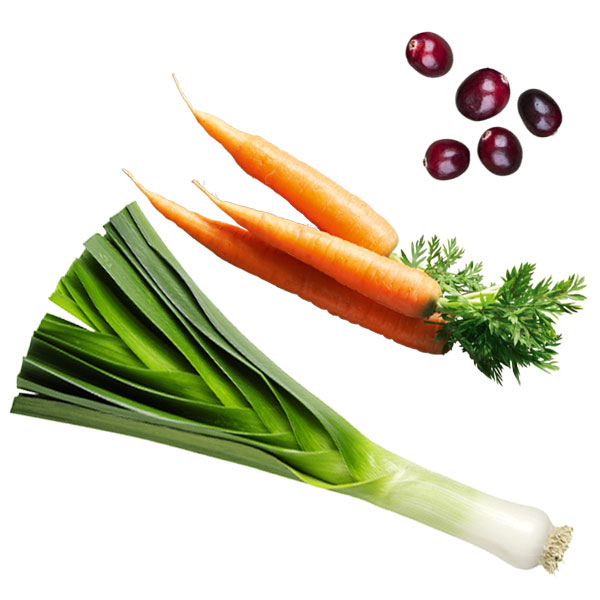 Legume, bace, plante, extract de măsline


fără cereale, fără cartofi
Întrucât pisicile sunt carnivore, pot procesa amidonul din plante cu moderație atunci când carbohidrații sunt digerabili. Acesta este motivul pentru care am adăugat cantități mari de proteine de înaltă calitate, precum și surse gustoase de grăsime animală în noul LEONARDO® fresh Meat.
Facem acest lucru în totalitate fără cereale sau cartofi - doar mazărea și amarantul furnizează o cantitate mică și ușor digerabilă de amidon.
Mai mult, aceste surse de carbohidrați au un indice glicemic mic, ceea ce permite creșterea lentă a glicemiei după masă. În acest mod, pisica dvs. rămâne sătulă mai mult timp și primește doar carbohidrații pe care îi poate procesa efectiv. Aceasta ne permite să furnizăm o gamă sănătoasă și variată de substanțe nutritive, fără ca hrana să fie greu digerabilă.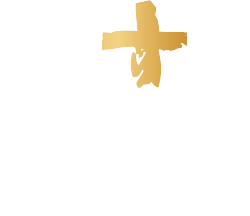 Zooplancton marin (creveți Krill)
Bogați în nutrienți sănătoși și substanțe vitale, cum ar fi acizii grași Omega-3, astaxantina și enzimele naturale.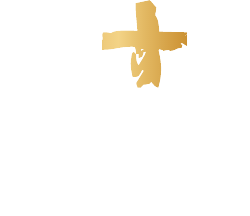 Alge Chlorella
Bogate în ingrediente active naturale.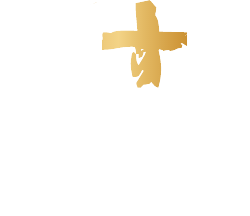 Fructe de pădure și merișoare
Bogate în vitamina C. Merișoarele susțin funcționarea sistemului urinar.

Perfect combinate
Băuturile LEONARDO® Drinks încurajează consumul cu bucăți fine de carne într-un bulion delicios.
Ideal pentru suplimentarea hranei uscate.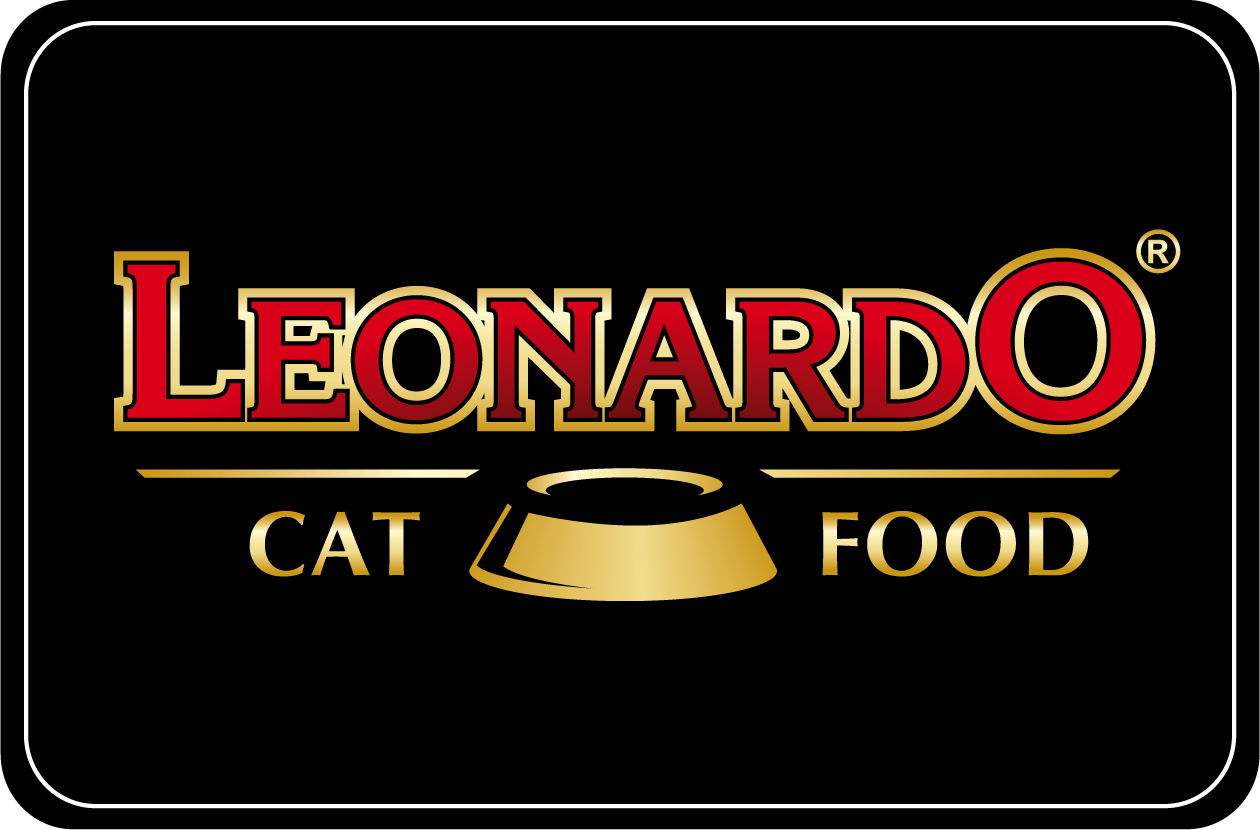 Promisiunea calității
Fabricat în Germania

Garantat din cele mai bune ingrediente

Savoare deosebită și nivel ridicat de toleranță digestivă

Produse fabricate numai din carne provenită de la animale adecvate consumului uman

Cu extra adaos de carne proaspătă
Noi nu folosim
T

este pe animale

P

roteine din soia

C

oloranți artificiali, arome și conservanți